Custom Closet Systems
---
When it comes to closets, you want to maximize the potential of the space as much as possible. With our highly trained and experienced professionals, we can offer you amazing design and functionality for any reach-in or walk-in closet. Since 1999, Kantola Custom Woodworks has been providing Northeast Wisconsin with ingenious closet design to take any closet to a new level.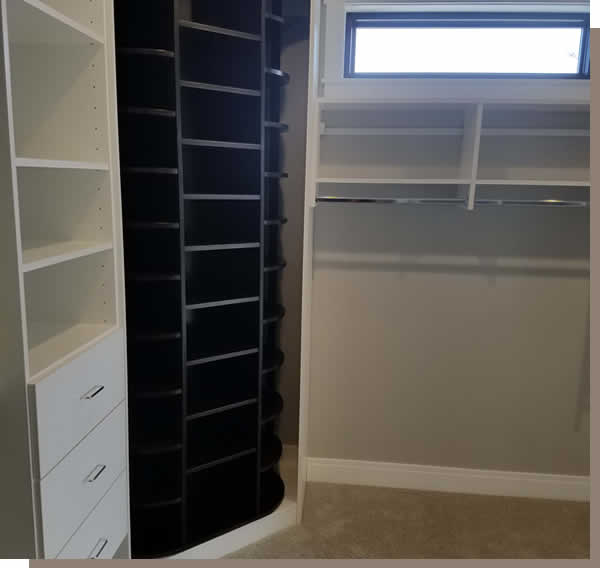 Kantola Custom Woodworks offers beautiful, smart, cutting edge storage systems that are custom designed for your closet and lifestyle. Whether you are doing a complete overhaul of your bedroom or if you are just looking to maximize the space of your current closet, we are able to offer you virtually endless possibilities in order to help organize and simplify your closet.
Our amazing closet designs and organization systems are functional and stylish. Whether you want something traditional, transitional, or contemporary, we are able to accommodate it all with an amazing array of materials, finishes, and door styles. This allows us to put together a completely custom look that perfectly fits your home and style, turning your closet into one of your favorite spaces in your home.
From initial consultation, to the completion of the project, we will be working with you throughout the entire process. Our goal is to ensure that the whole process is enjoyable and stress free. We do this by dedicating ourselves to pay attention to every detail and also by making ourselves the only point of responsibility and accountability for the entire project. We take care of design, ordering materials, and construction, so we are the only ones that you need to work with.
---
A custom closet can be whatever you want it to be. With the help of our experienced designers we will help you navigate the seemingly endless options for finishes, accessories, hardware, and layouts. We will make sure to fins the perfect combination for you and your lifestyle.
Some examples of the options we offer include:
Custom islands for walk-ins
Custom shoe shelves
Custom jewelry storage
Custom vanities
Custom lighting
Custom painted fronts and trim
and more